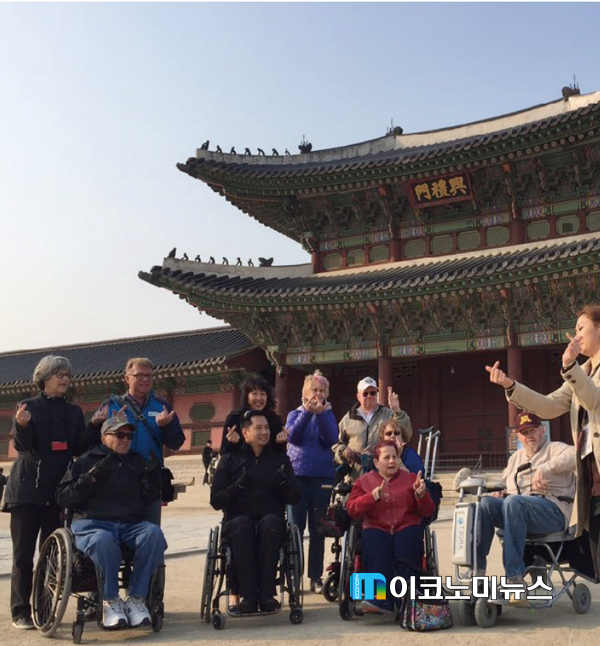 <M Economy Park Hong-ki> If anyone has time and money, it is 'travel'. However, there are some people who are not easy to travel even though they have a lot of money and time. He is just disabled. People with disabilities who do not see the front are worthless even if they go on a trip to a beautiful place. It is also meaningless if you provide a course of travel up a steep stairway to a disabled person who can not walk. There are travel agencies that offer travel content so that people with disabilities can travel in new ways, ultimately creating a world in which people with disabilities and non-disabled people can live together through travel. It is Amusement Travel Co., Ltd.
Accidental recognition of disability problems in Myanmar volunteer activities …
Disabled travel, customer needs are strong but no solution
It is not uncommon for non-disabled people to have experiences with people with disabilities in their daily lives. Amy's Travel O-Seon Yeon was a white-collar worker who had no experience with disabled people. O Seong-yeon's interest in disabled people has been on Myanmar's overseas volunteer activities since 2011. Oh said, "I was aware of the difficulties of disability while watching the disability of the victims who had lost their lives due to the typhoon and moved to the garbage disposal area. I was interested in participating in forums and seminars related to people with disabilities. "
As the degree of understanding about the disabled increases, the representative Lee has a desire to solve social structural problems such as discrimination between the disabled and the non – disabled. I wanted to make a world where people with disabilities naturally have an interest in people with disabilities. At that moment, a friend who was a member of the founding business suggested a travel agency for the disabled, which became a decisive opportunity to start the business. "There was a desire for a sustainable business model while solving the problem of discrimination against persons with disabilities.
"When I was in trouble, my friend who was doing volunteer service talked about the reality that many people who want to travel can not do many things." As a result of actual market research, it is difficult for disabled people to access cultural facilities. "The customer's need for a disabled person's trip is strong, and I realized that there is no solution in the market, and I am confident that this business will be a business that can naturally make people with and without disabilities unified. "In the end, I ran out of the company to start a business to solve the problem of discrimination between the handicapped and the non-handicapped on a trip," he said.
The realities of the Republic of Korea
According to the National Statistics Portal (KOSIS), the estimated number of people with disabilities in Korea is 2,717,000 as of 2014. When one or two persons with disabilities and one family member, such as a family member, travel together, more than one out of 10 Koreans travels with disabilities. Yoon Seo, CEO of the accessible tourism network in Korea, said, "In Korea, there are not enough restaurants and accommodation facilities available for people with disabilities and they go directly to the scene There is no information that is hard to find unless you look for it. "Everland has refused to ride a rides to the visually impaired, and as there were controversy, there is a limit to the use of amusement parks, and there are few experiential cultural facilities such as bungee jumping "He said.
"Although there are a few travel agencies for disabled people in Korea, it is a reality that all the disabled people are not enough to use enough, and the related legal system and institutional maintenance are in urgent need," said the former government. We are expecting the policies of the disabled to be friendly. "
Amusement Travel Co., Ltd. offers customized travel products for the disabled
or an online platform to connect with local hosts
He left the company in 2014 and started the business at the end of 2015 after about a year of preparation. For over a year, we have developed over 20 travel programs to find places with special flavors or unique flavors and places where stories about people with disabilities are intertwined. The amusement traveler thus born also provides customized travel products tailored to the disabled and serves as an online platform to connect with local host (disabled product planner).
O said, "We visited cultural facilities and play facilities such as Lotte World, Korean Folk Village, Yongsan Electronics Memorial Hall, and disability people we met during volunteer activities. We also tried to understand the exact needs of disabled people by walking around mountains and the sea. After a one-year beta test, we developed travel products and secured travel rights and accommodation. "Amusement Travel is a place where people with disabilities who want to travel can get the best accommodations, Provide personalized travel products for the disabled who secure the right to travel.
The main difference with regular travel agencies is that they provide special content for people with disabilities to feel like a non-disabled person when traveling. Oh said, "For the visually impaired, the local storyteller tells about the area in the plains where the smell is felt while walking on the path of the unicorn tree, and for those with physical disabilities who can not climb the mountain." " We are always striving to develop and standardize travel contents that fit our needs. "
In addition, it serves as an online platform that connects local host and travelers who have a high understanding of people with disabilities and who are familiar with travel infrastructure. The host will provide travelers with goods and services for the disabled and guide them through the tourist course. Mr. O said, "We have secured local host through travel courses and conferences, and now we have about 20 people in Finland, Bali, Vietnam and Estonia." "Finnish hosts, especially from nurses, It is not only high, but it also matches the host that we want to meet ultimately by developing travel products entirely by securing both accommodation and vehicles directly. " Products currently open on the Amusement Travel website are around 10 in Seoul, Jeju, Busan, and Osaka. It is an early stage to introduce the host and develop the product, and the products such as Finland, Bali, Vietnam, Estonia and China will come up soon.
To enjoy the touch scent, handicapped travel,
Most importantly, understanding the disabled
Travel agencies with disabilities provide travel products with senses such as sense of smell and hearing to invisible and inaudible people, but this is not the end. It is only when a product planner such as a host knows exactly the characteristics of a person with a disability that they can provide a perfect trip. He said, "In case of people with physical disabilities, the digestion ability is weak and it takes about 2 hours for meals." These people usually spend about one hour If you go on a non-disabled trip, you may notice that you are forced to eat quickly and vomit. " "Visually impaired people are very reluctant to hand over and eat at meals. "It is more important to catch up on the minute details that make you feel uncomfortable than to develop new content for the disabled," he said.
 The real purpose is '10% of non-disruptive travel goods revenue is handed back to the disabled'
Amusement Travel also offers travel programs for non-disabled people. Some of the proceeds from non-disabled travel are used to help people with disabilities. More and more customers are listening to the idea of ​​this kind of travel. Oh said, "Although it is possible to travel to India without any trouble, it is interesting that these travel products are interesting. Therefore, if you try to travel with a disabled person, you are not doing well. "He added," A non-disabled customer who traveled with a disabled person called and said, 'Hey! O Seon Yeon! I saw a disabled bus ride here! "
I have made a flag. This is the world I have dreamed of. "" I was not aware of the bus ride before, so I became aware of it through travel. It is still a small but convergent process with people with disabilities. "
Customization damages customers / travel agencies, necessitates conversion to 'host' travel mode
As a matter of fact, Mr. Oh was the first to do the platform business through the host from the beginning. This is because the method of customizing the most suitable products for the customers after the request of the disabled person is forced to increase the cost because of the distribution structure of one level or more. Mr. O said, "There are 15 kinds of disabilities and their grades are divided into 6, so if you construct the products each time, then the profit rate is not good and you have to use the products at relatively high prices for customers. Financial problems and so on, we can not develop products indefinitely, so there is a limit to meet the needs of all types of disabled travelers. "
However, it was not easy to meet a host who has a high level of understanding of disabled people and builds up local infrastructure from the beginning. In the end, in order to pioneer sales channels and acquire know-how, we have had to concurrently organize and provide products directly. Oh said, "Unlike a non-disabled tour, there are few precedents in the case of travel for people with disabilities, making it difficult to find a host. So in the end, we hosted ourselves as a host, planning tour products and acting as a local guide. "In the process, we met with the host through collaboration with the local people and now they started to show interest in overseas disabled organizations.
If there is a shortage of hosts, we are continually developing our products while supplementing with the know-how we have accumulated over the years. "
"Mr. Oh said," We need to take a host of roles to play a role of platform for promoting the audience and filling in the lack of contents, so that the market will grow and overcome the unreasonable cost structure to satisfy all kinds of disabled travelers. "It will be the first company in the world to successfully implement the role of platform through local host, thereby creating not only economic stimulation but also social value."
Become 'Airbnb' for the Disabled Travel Industry
Non-disabled people can easily plan trips with a few mouse clicks. If you have a destination you want to go to, you will find the cheapest airline you want to stay in, and organize your own travel products. According to Mr. Oh, there are a number of travel agencies with disabilities overseas, including five in Korea, but there is no connection point that serves as a platform. Therefore, even if there is a place where a person with a disability wants to go without going through a specific travel agency,
Guides are not easy to find and compare.
Amy's Travel is aiming to fully implement the 'Airbnbie' business, the world's largest shared accommodation platform, for disabled people by attracting all of the world's network of disabled people based on the acquisition of the host. You can click on the place you want to go to, and you can easily organize your products and go on a trip. However, disabled people do not have a lot of travel infrastructure, and they are scattered all the time, so there is a limit to the composition of products. "If disabled people can construct products just like non-disabled people, is. Our goal is to bring together all the infrastructure for people with disabilities and create a shared economy where people with disabilities can organize their products with just a few clicks. "
MeCONOMY magazine August 2017
Park Hong-ki reporter ysuk0329@naver.com Registered 2017.08.21 10:16:10
Source:
http://www.m-economynews.com/news/article.html?no=20146